This story is dedicated to mother nature. It´s close to unbelievable to follow this show!.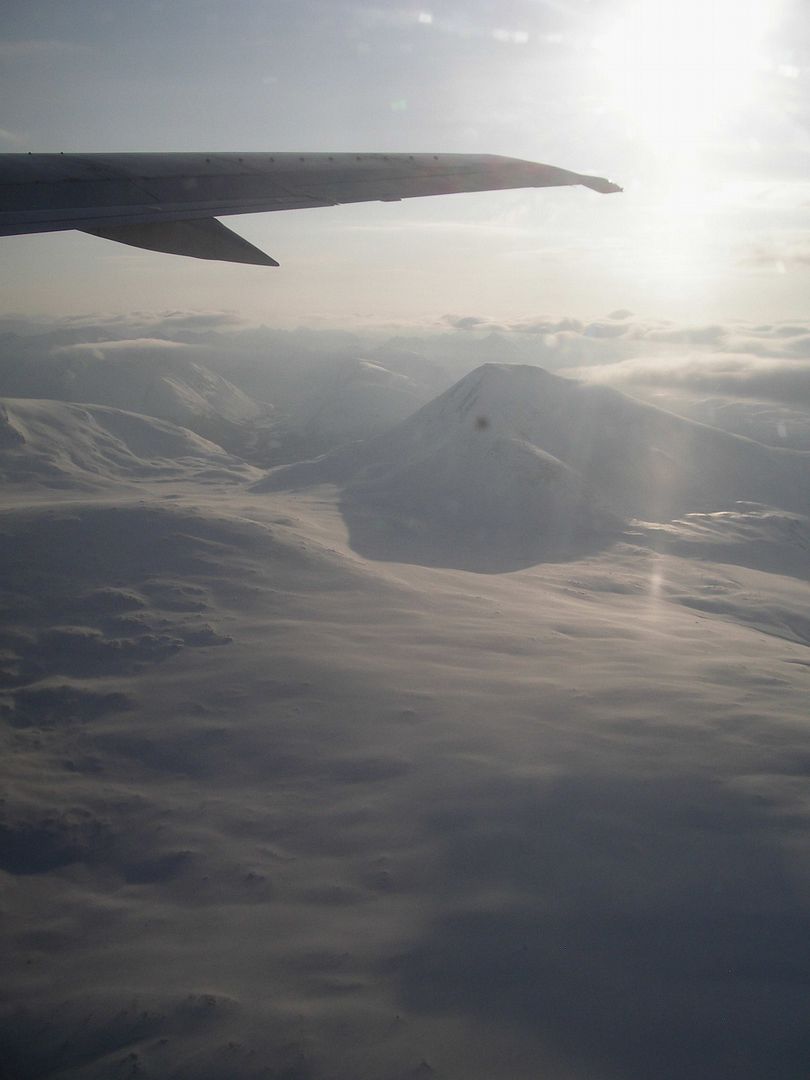 The trip in one word:
FLABBERGASTING
"How far up the north should we go to follow the show?"
Hei, hello dear readers,
March 2014 started with a couple of flights around the nordic skies.
Here are the vids:
http://www.youtube.com/watch?v=vQb6ZB7uxAE
http://www.youtube.com/watch?v=aImgZXzSSls
http://www.youtube.com/watch?v=VOX8-sGgrko
But it seems this is not far north enough!:
Thanx to once again:
http://www.gcmap.com/
Monday, 03.03.2014
TOS (Tromsø lufthavn, Langnes)
KKN (Kirkenes lufthavn, Høybuktmoen)
The vid:
http://www.youtube.com/watch?v=jRKPRAUniSk
Service DY 310 operated by Norwegian Air Shuttle
Scheduled: 10.35 // 11.30
Some visited airports are to see here:
Visited Airports II
auf einer größeren Karte anzeigen
And a couple more, maybe?:
Visited airports
auf einer größeren Karte anzeigen
The checked airlines, too:
AIRLINES CHECKED
auf einer größeren Karte anzeigen
And also the recorded plane types:
PLANE TYPES RECORDED
auf einer größeren Karte anzeigen
The visited countries:
VISITED COUNTRIES
auf einer größeren Karte anzeigen
The Tripreporter 2013 log:
TRIPREPORTER 2013
auf einer größeren Karte anzeigen
And also 2014:
TRIPREPORTER 2014
auf einer größeren Karte anzeigen
And well, trust me, 2015 is also open!:
A chilly fresh good morning fom Tromso.
The Smarthotel as the place to stay for the night was, lucky me, well heated and now I should have something for breakfast.
Something like this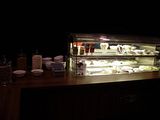 Or maybe like this?
Don´t miss an early walk, isn´t it?
Ok, it´s cold here, really cold and the Flybussen is running soon, hopefully at least!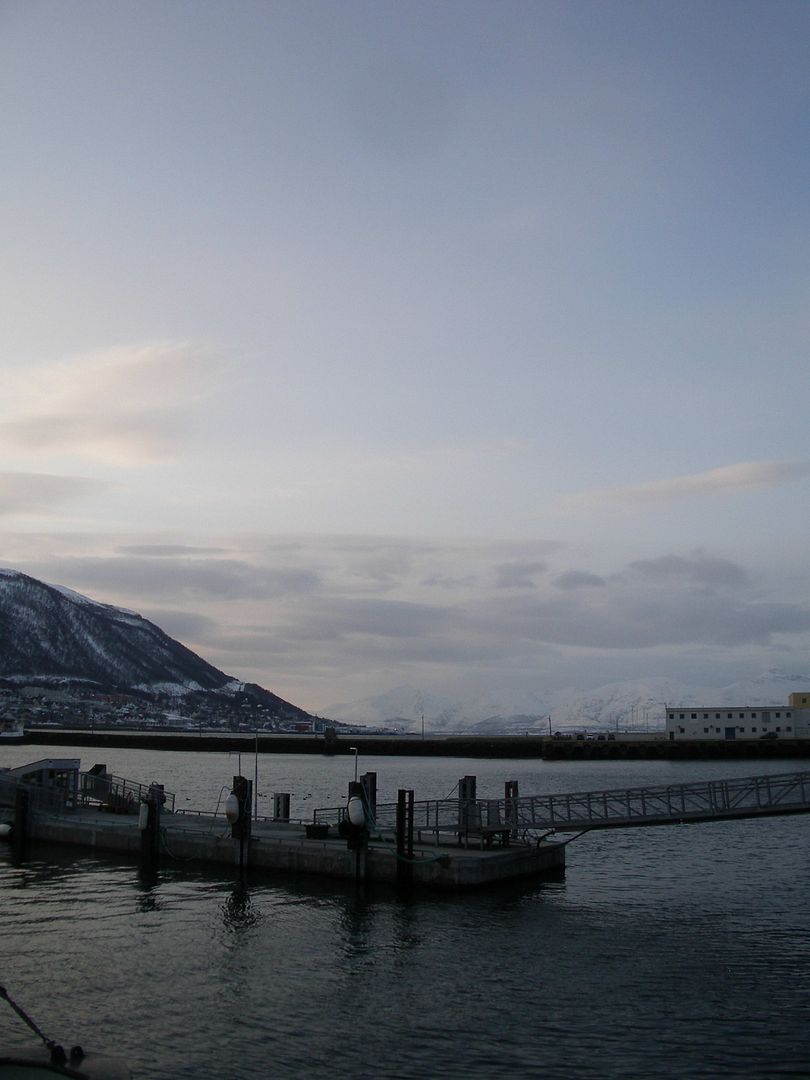 Reliable it is, nothing else expected and soon thereafter I´am at the "Tromsø Lufthavn, Langnes"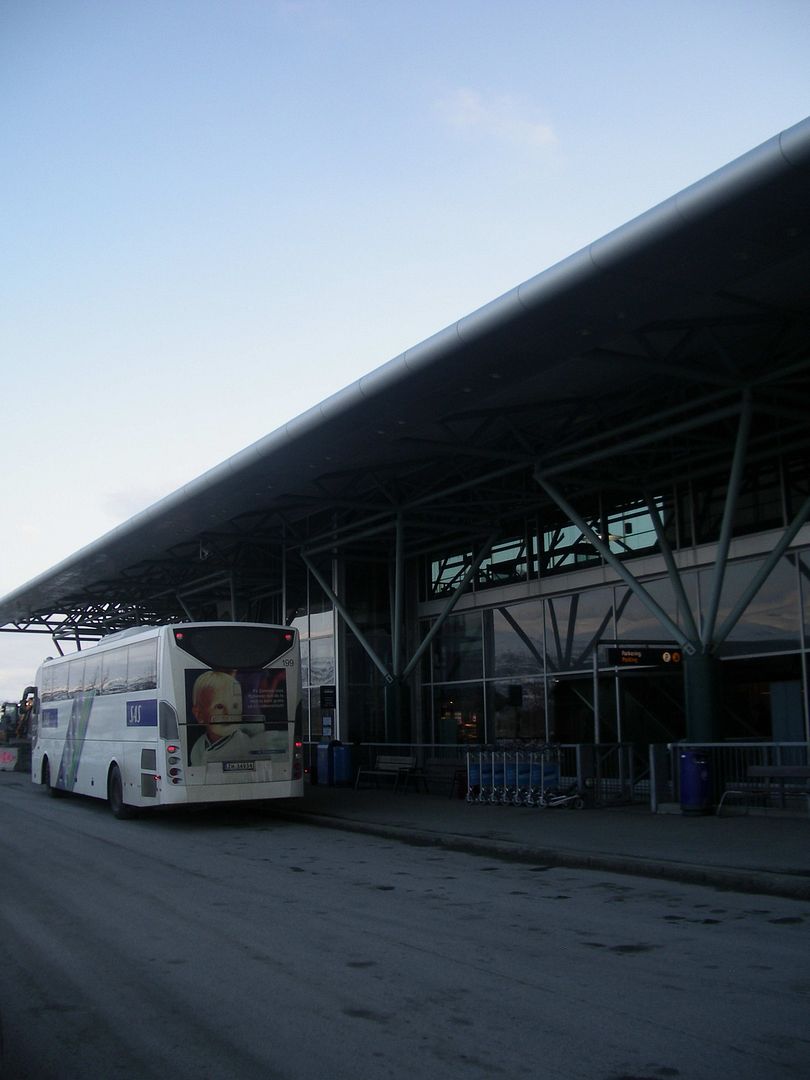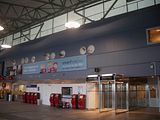 And what´s on the screen?
The right place at the right time. Someone decided that I´am good to enjoy a sunny clear day. Well, snow and sun looks like good, isn´t it?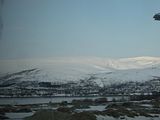 And this type of plane fit´s perfectly!
Is there something on finals?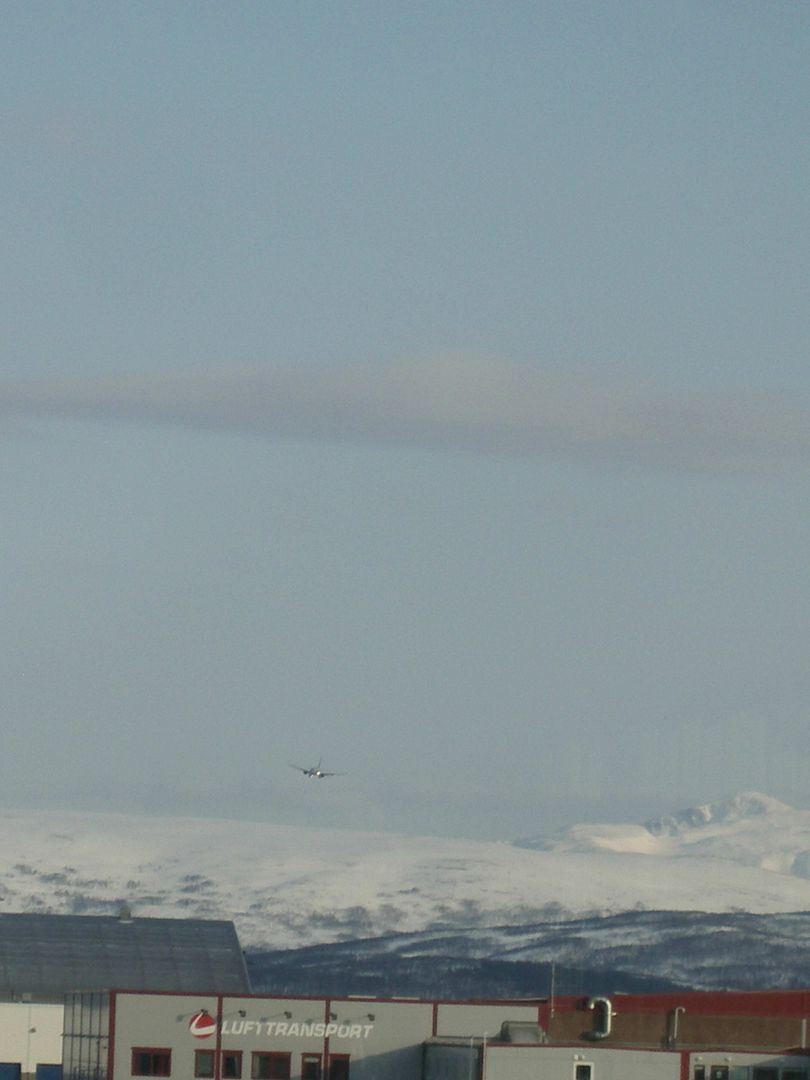 Not that much action here right now
and also no lounge on offer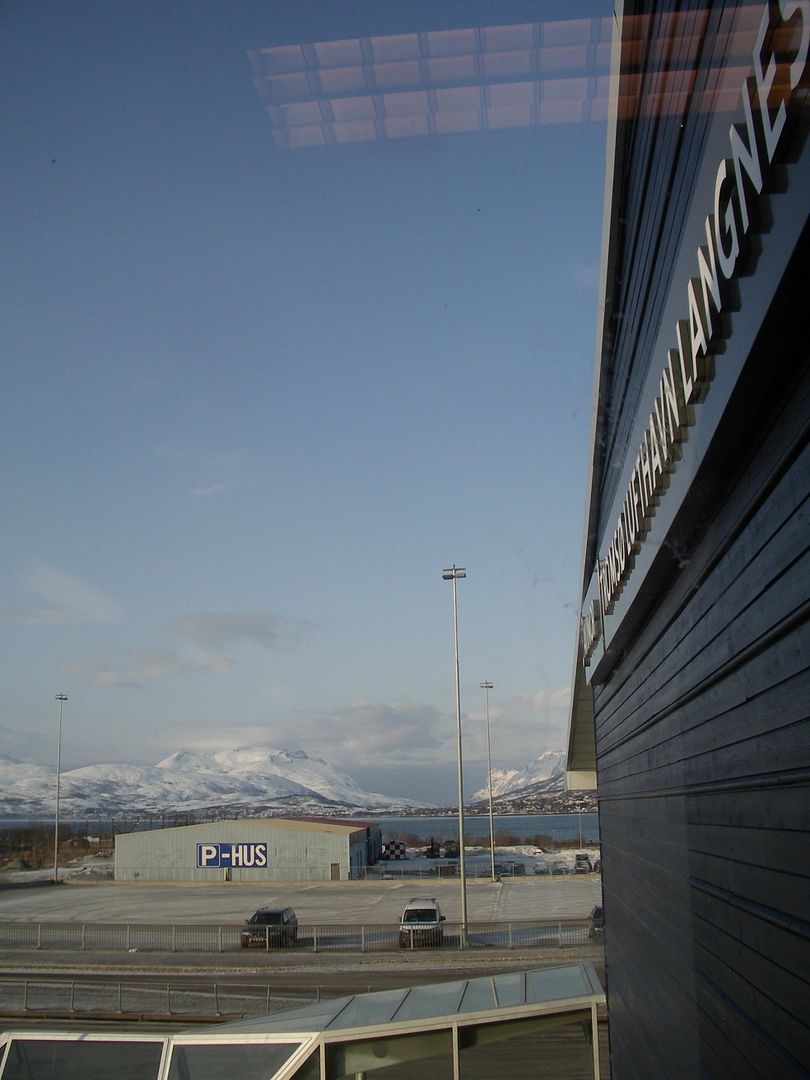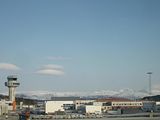 Ok, give me a classic anyday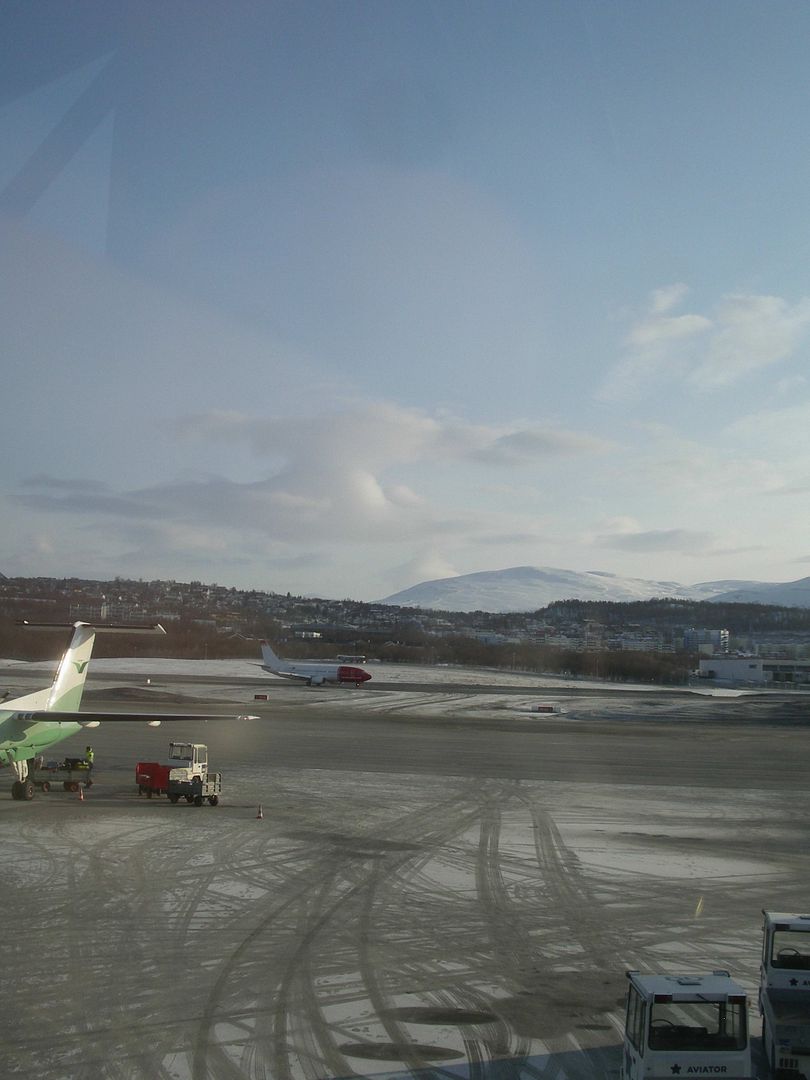 This one maybe from gate 23?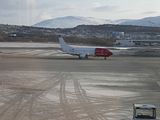 Come closer, please!
Ready for service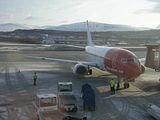 By the way, this ticket is fixed with Norwegian directly and the fare is
just 45.00 Euro´s.
Check-In is done at the airport and the SSK printed my boarding paper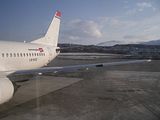 What about this green example?.
Maybe later?.
Anyway my plane likes to go with or without me!.
And with this weather conditions better with me!.
And trust me, a windowseat is worth it from time to time.
25F, the last row and three for me.
10.45 am, just a couple of minutes late, 40 minutes to fly by "Nor Shuttle" and the 2447 meters runway "One-Nine" it is.
0 degrees and sunny it is, more than perfectly sunny!.
Cabin crew is all female, one woman with black hair, ok, middle aged, one with brown hair younger, slim, not that large, nice.
One blonde, middle aged, ponytail, fit´s well to the red Norwegian scarf, really nice.
No service cart on the run, pax should press the button if they like something to eat or drink, interesting to say the least.
The very first row is taken by Scandinavian guy´s, the "Kaptein" with infos in a nice style inflight.
Nothing about the route or flightlevel.
Well, switch on the IFE, my IFE, isn´t it?
With a sharp left turn right after departure
Where is the snow?.
Like someone asked from time to time!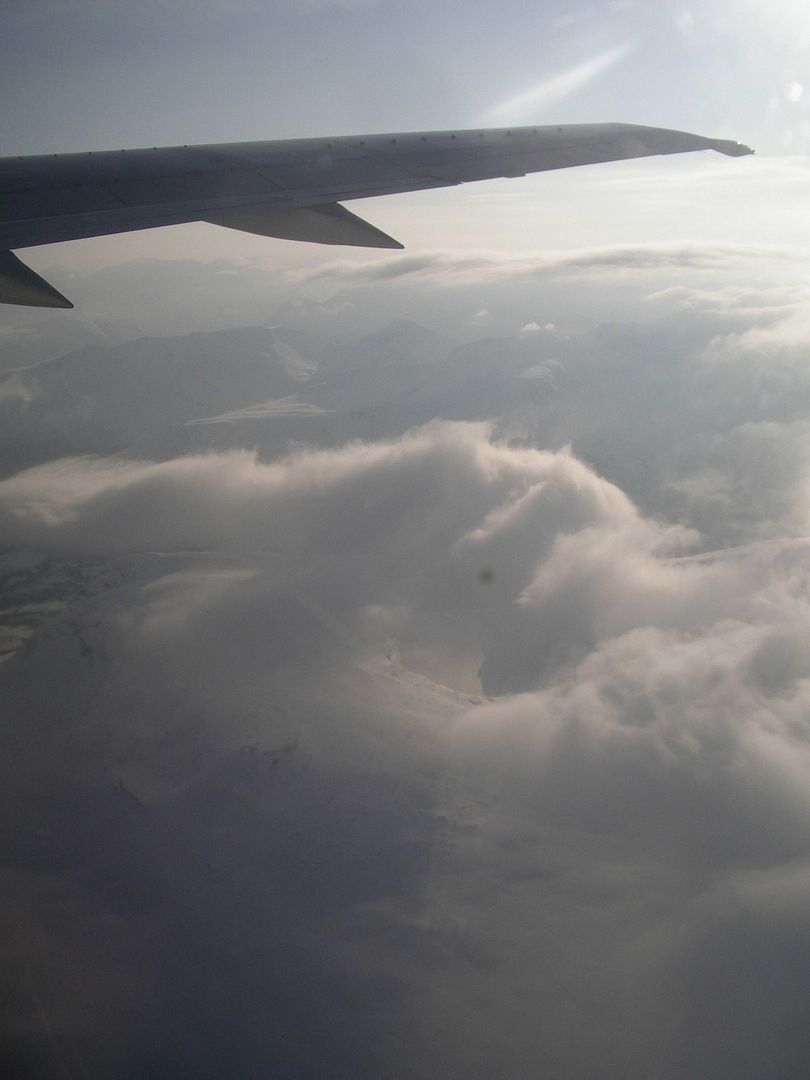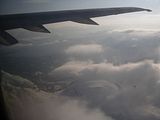 Here it is, certainly!
Just a very few number of clouds around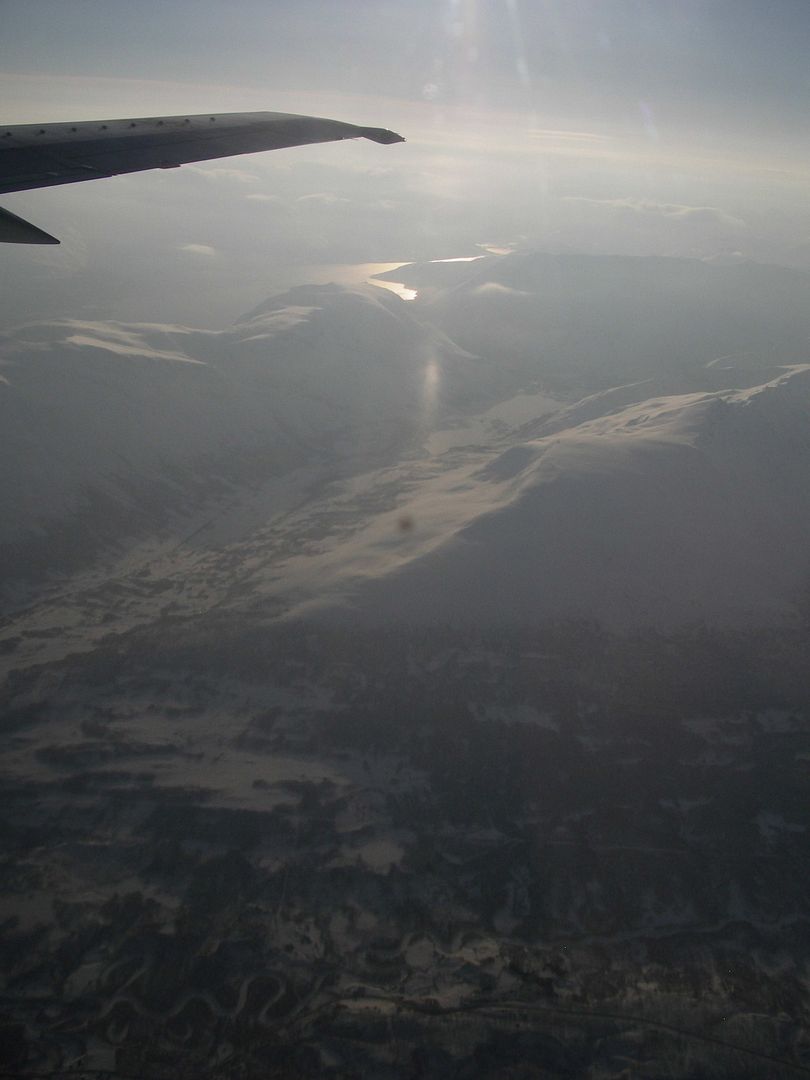 And the golden lake
More pictures, sure!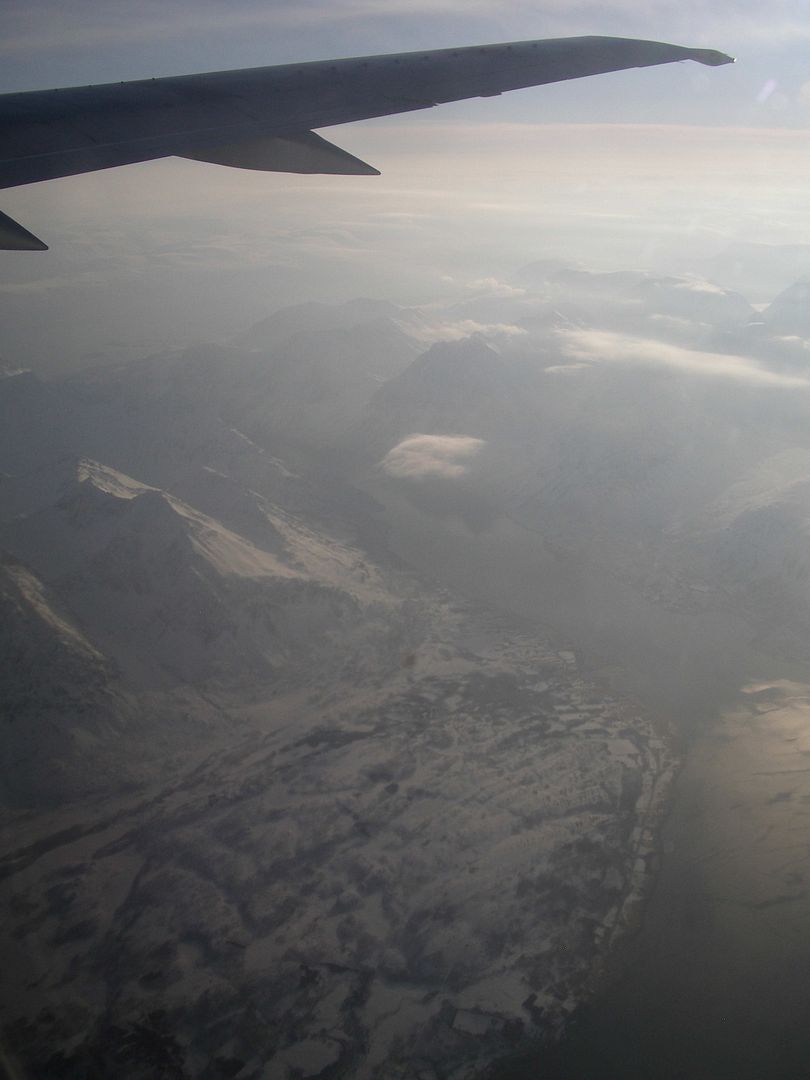 More mountains, more sun, more snow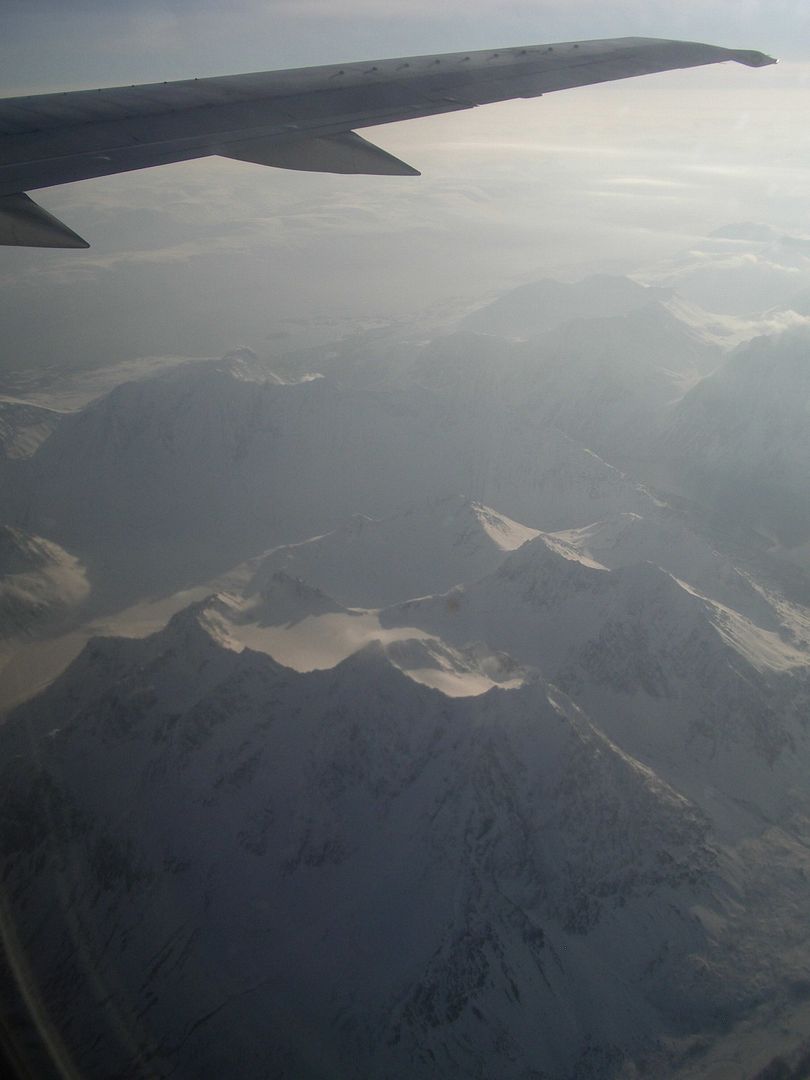 And do not forget, more lakes!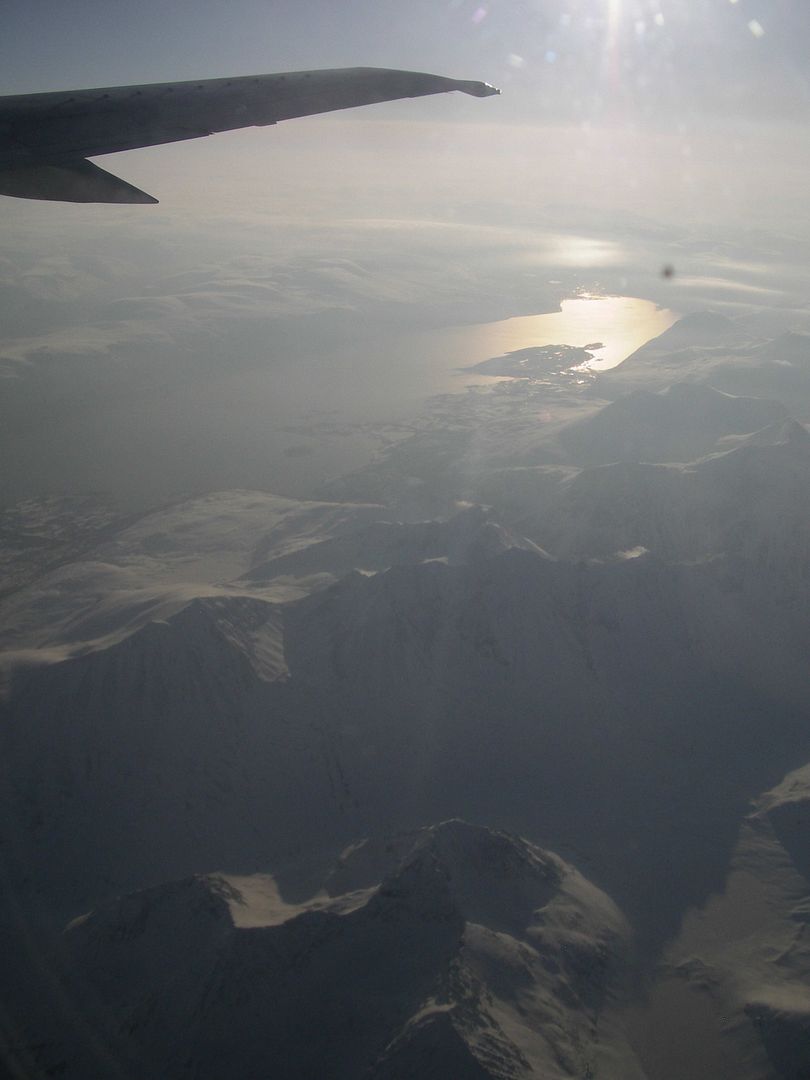 And sure, much more sun please!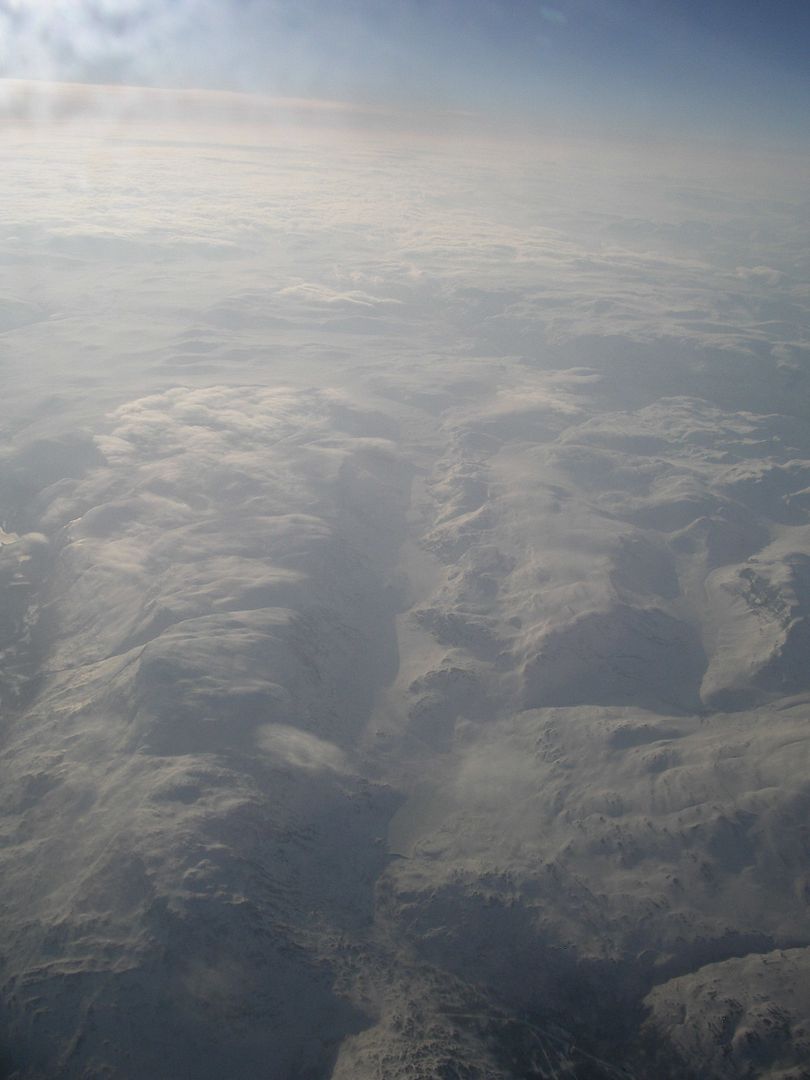 Trust me, there is also something inside these plane!.
Something like dark blue leather seats, oldfashioned, well used and low legroom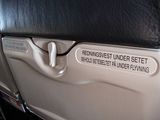 Well, this is a classic 737-300, LN-KKD, no individual name to notice.
One of 9 in the actual fleet and in the air since 23.08.1999 with EasyJet, EasyJetSwitzerland and Virgin Nigeria.
Leg no. 58 on type and hard to believe, done once before by EZY on the GLA-STN route years ago.
Stories?. Sure!:
http://avherald.com/h?article=42e14eb9&opt=0
http://avherald.com/h?article=42ec76ec&opt=0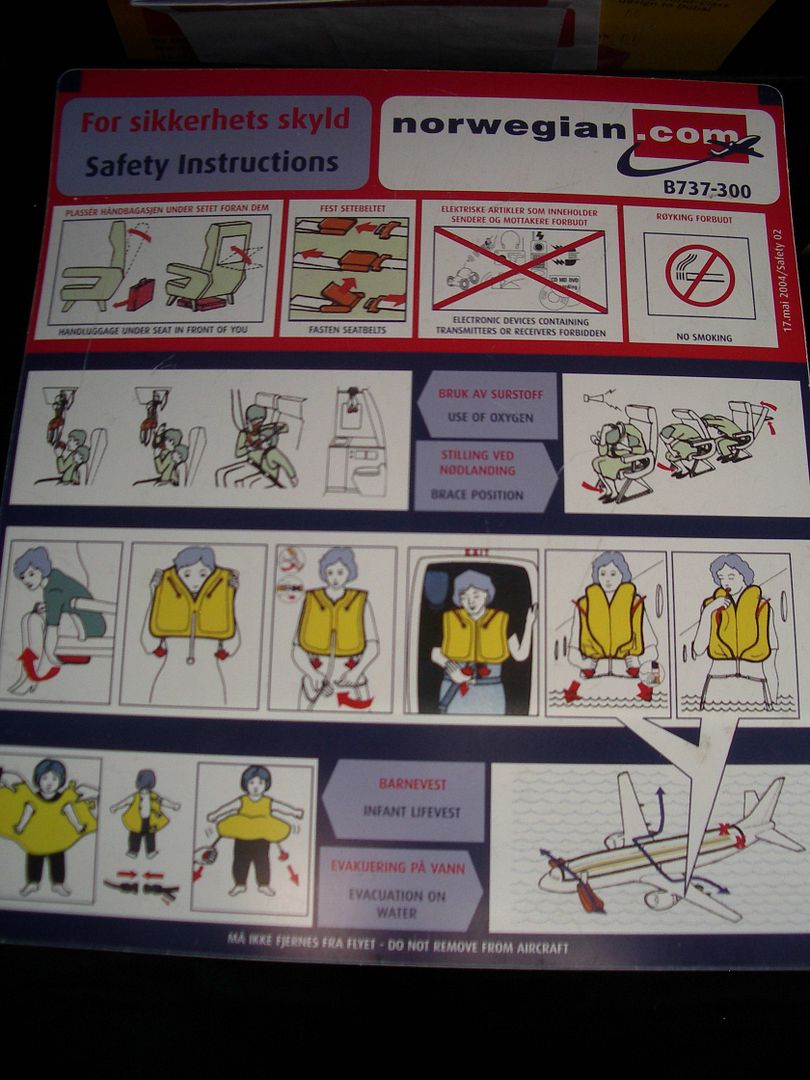 No, I don´t need anything else beside the window show!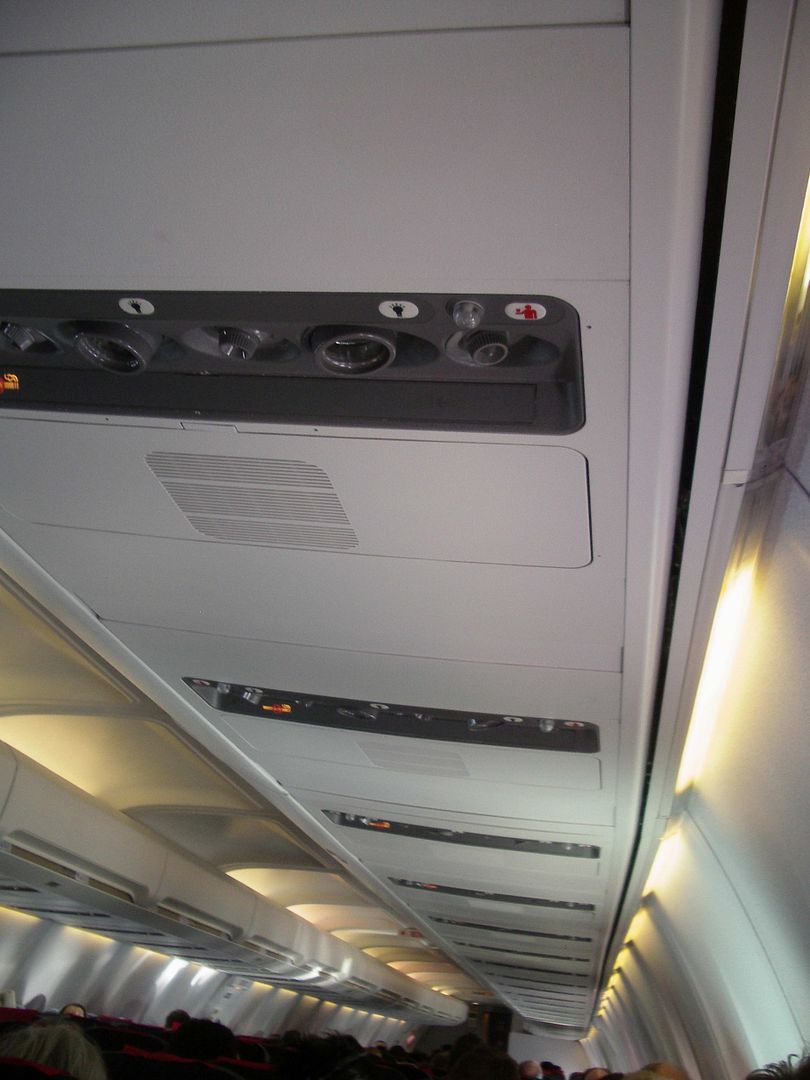 Cold and foggy it looks like in eastern direction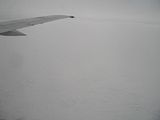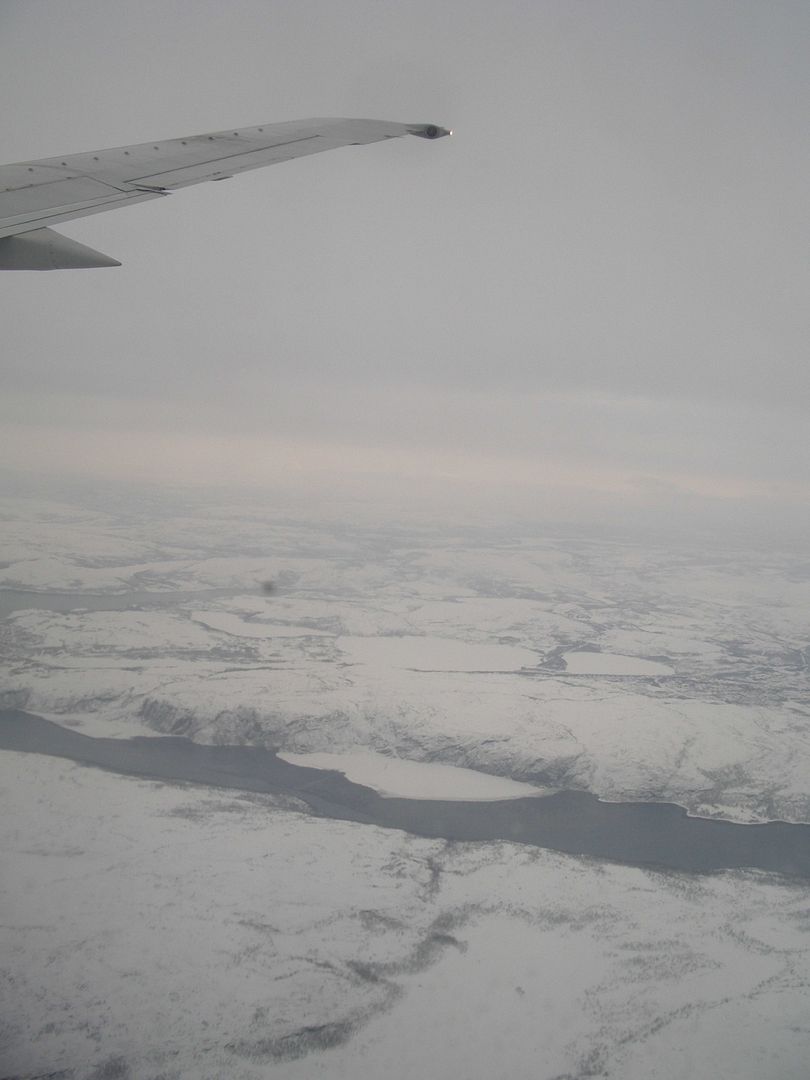 Ice floes?. Is this a sign of cold air down there?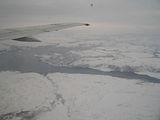 Well, it looks like this way
Call it a scenic approach above frozen lakes and the all white scenery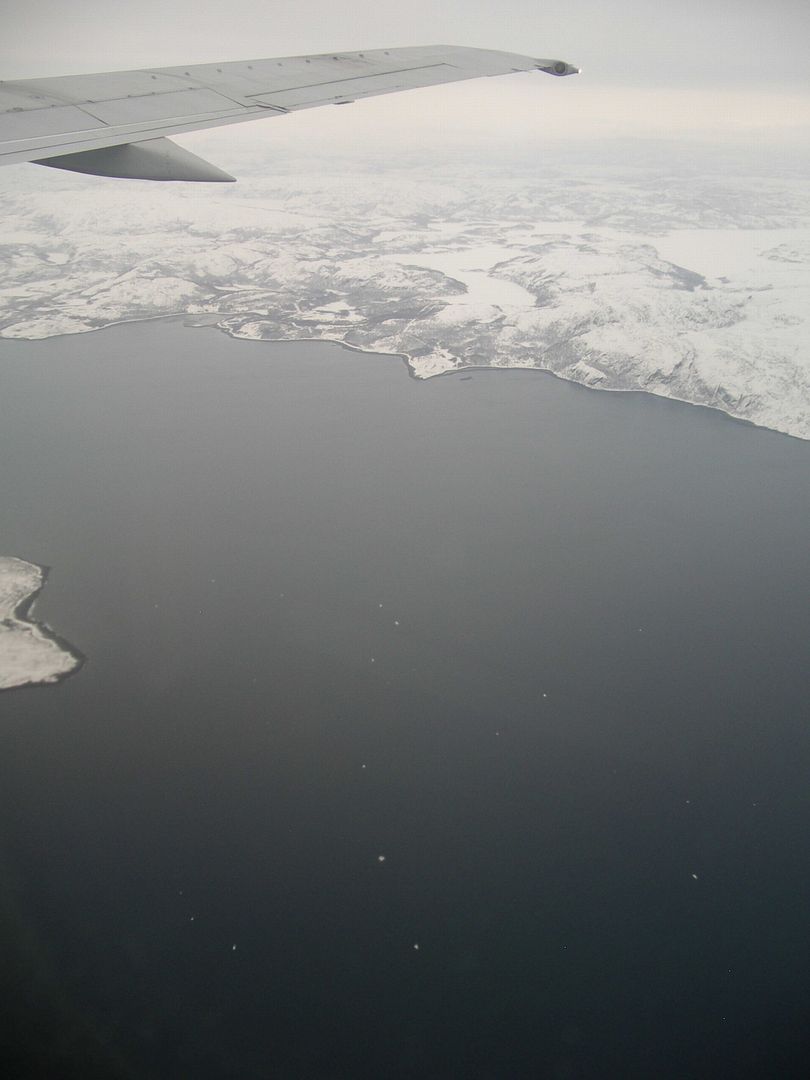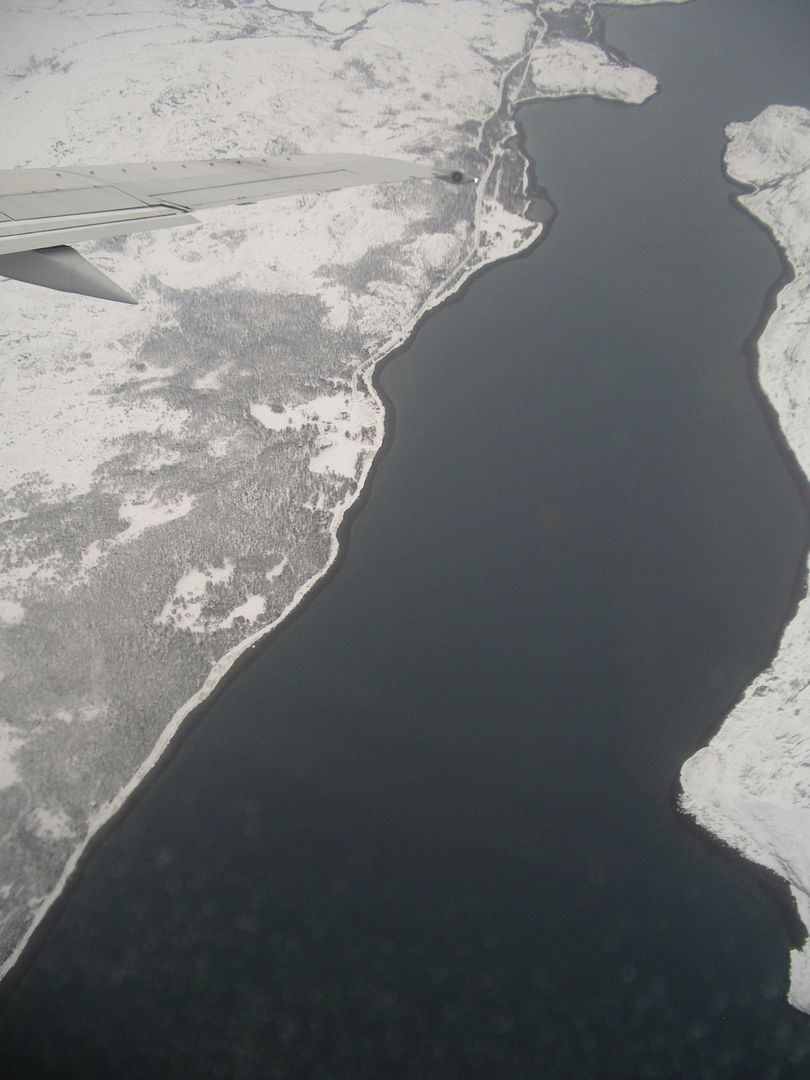 Any signs of human life?
Not sure, no!
Touchdown at the 2115 meters runway "Two-Four". It is "Kirkenes Lufthavn Høybuktmoen", really. 11.30 am, what means ontime. -6 degrees and high fog.
Ah, the green examples are also here but there is a free parking spot for us available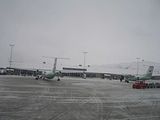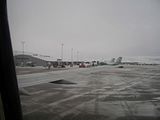 Do not miss an under-the-wing shot, you know!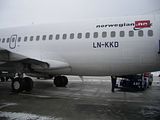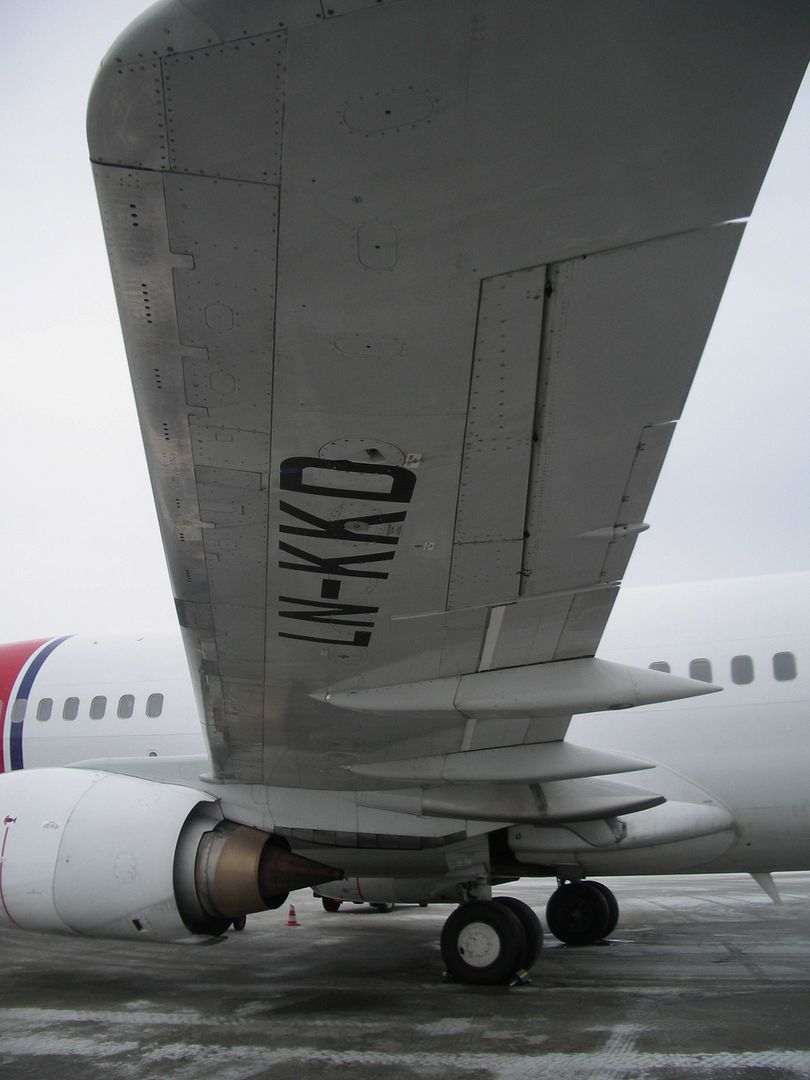 And take care, take extremely care,
it´s slippery on the apron. I´ve made it without something broken, lucky me!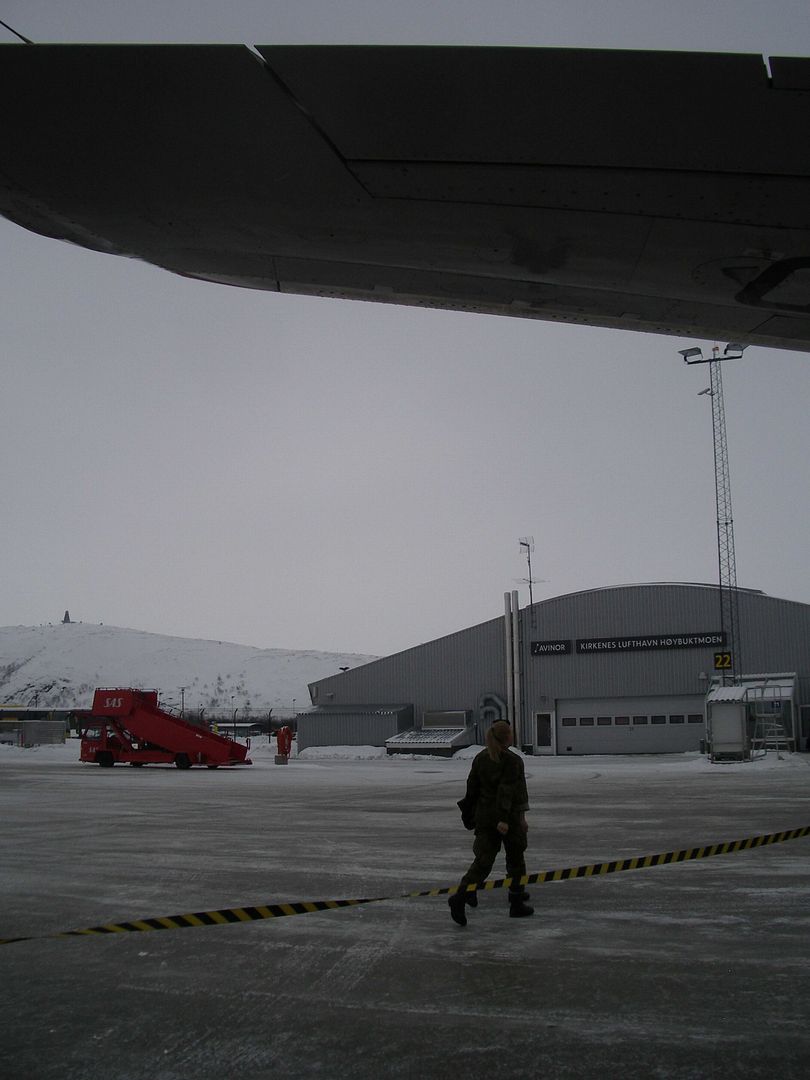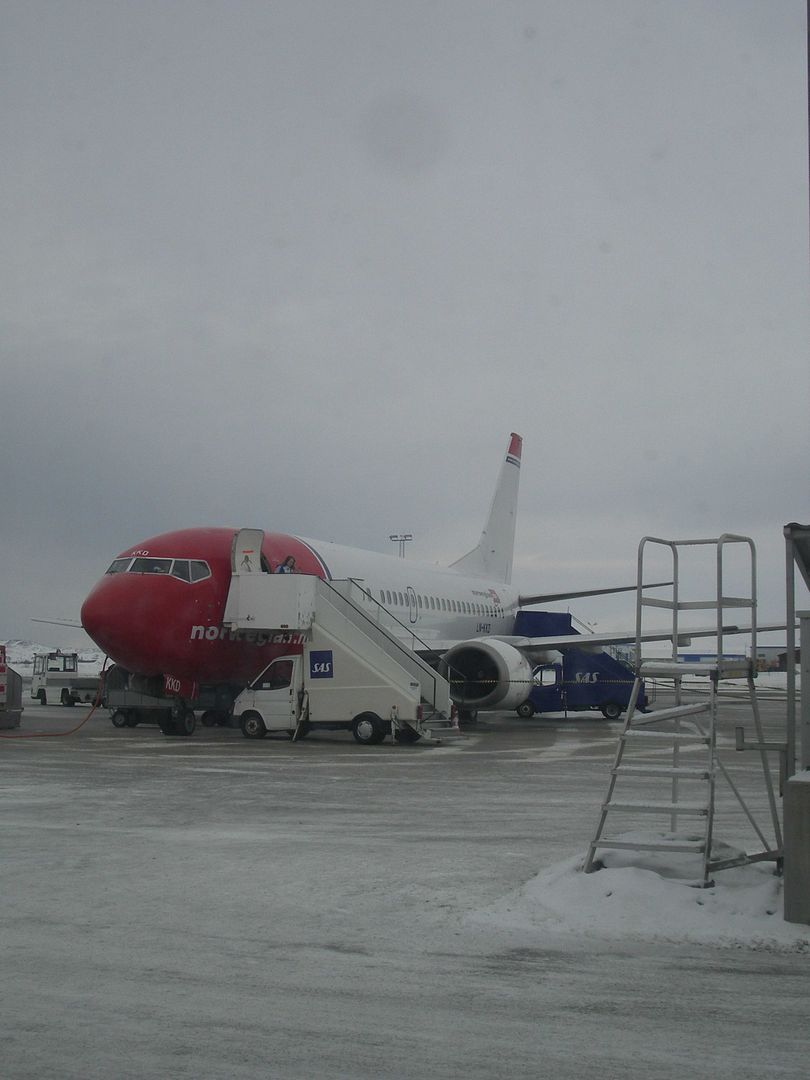 Well, is this really Norway?. All russian plates in front off the terminal.
The border tower for a closer view into Russia
And soon, hopefully, on the way just a little bit further!.
The Tripreporter.